Claremore Industrial Park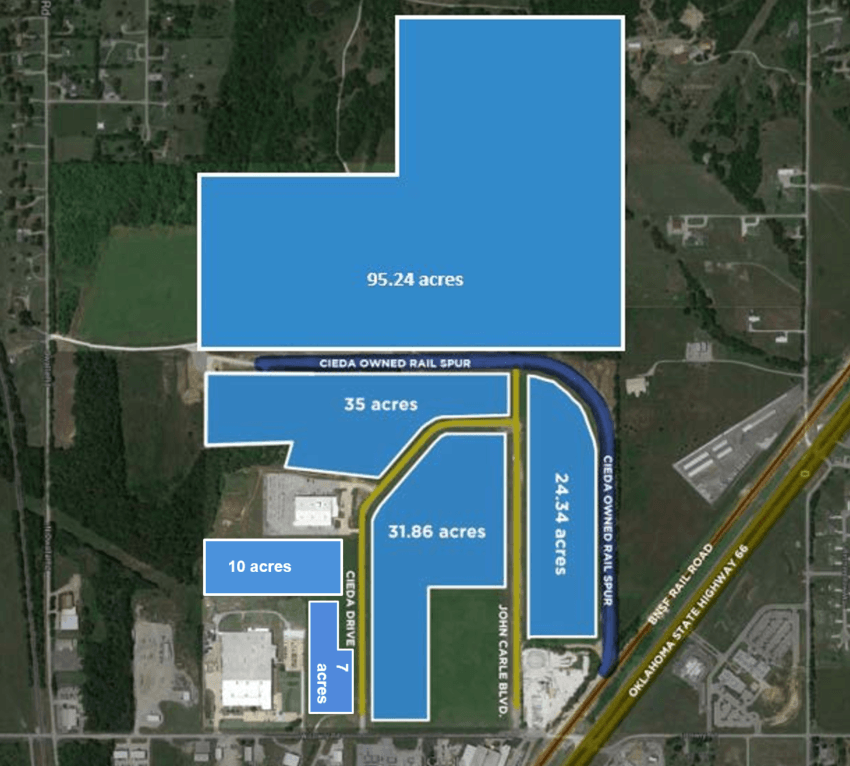 Claremore is located 20 miles northeast of Tulsa, Oklahoma, with direct access to multiple federal and state highway systems and access to two Class I railroad lines. Claremore is equidistant, with centrally-located positioning from Los Angeles, Miami, and New York City, meaning the entire country is accessible with short, two-to-three day delivery times. Additionally, our community sits less than 12 miles away from Oklahoma's "seacoast", the Tulsa Port of Catoosa, offering its companies true multimodal transportation access.
Claremore serves as the Rogers County seat, which a population exceeding 92,000, providing area companies with a robust workforce pool. Additionally, Claremore has convenient access to the Tulsa metropolitan area, home to more than 900,000, further increasing the community's talent pipeline.
The CIEDA-owned Claremore Industrial Park is home to approximately 225 acres of flat, greenfield sites for the development of any size project. The proposed sites have paved road access, water, sewer and telecommunications infrastructure in place, allowing for an expedited ownership and construction process. Companies located in the park also benefit from direct access to an on-site rail spur, served by BNSF.
All land located within the park is zoned for industrial activities under the City of Claremore's comprehensive development plan. In conjunction, CIEDA has completed a complete due diligence plan for the industrial park. Click here to see how our sites can accommodate various size projects and facilities.
Available Land
200+ Acres
100 plus Acres Shovel Ready
200 plus Acres
All Utilities to Site
Greenfield Sites Available
Phase 1 Environmental Complete
Zoned Industrial
Dedicated Rail Spur for Industrial Park
Central U.S. access to I-44, I-40, & I-35
Rail Spur
The industrial park has BNSF and Union Pacific as its mainline carriers. There is direct access to BNSF via rail spur.
Transportation
Claremore Regional Airport logo.
Tulsa Ports logo.
Tulsa International Airport logo.
Home to Global Manufacturing