Claremore Industrial and Economic Development Authority Receives Excellence in Economic Development Award from the International Economic Development Council
October 6, 2021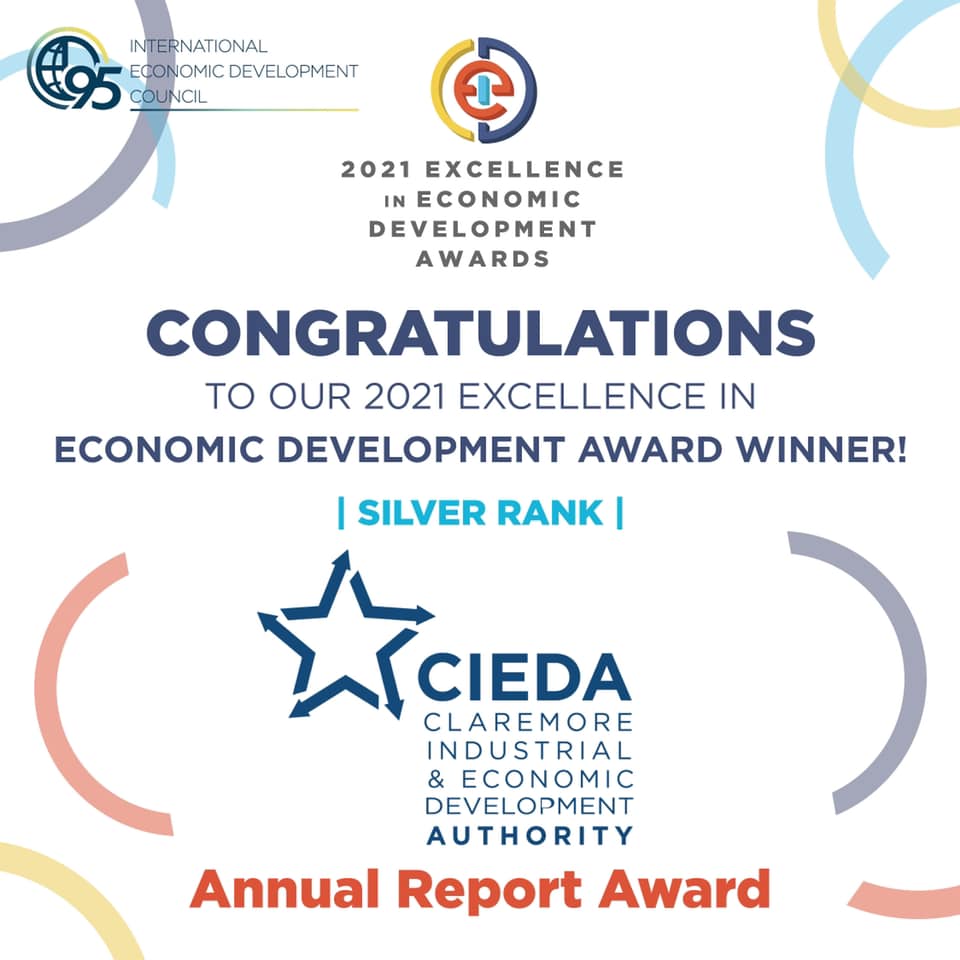 Each year, the International Economic Development Council (IEDC) recognizes the world's best economic development programs, marketing materials, initiatives and leaders through its Excellence in Economic Development Awards. The Claremore Industrial and Economic Development Authority (CIEDA) was awarded with a Silver Rank for its 2020 Annual Report. The honor was presented Tuesday evening at an awards ceremony during the IEDC Annual Conference, which is currently taking place in Nashville, Tennessee.

"Ensuring stakeholders and citizens receive clear communications through transparent methods is vital for public entities and economic development," said Meggie Froman-Knight, Executive Director of CIEDA. "We are truly honored and humbled to be recognized by the IEDC for our efforts in highlighting our organization's yearly accomplishments. Our marketing programs and showcasing Rogers County as the best place to live, work and play is an on-going priority for our organization. This distinction is a clear indication that we are heading in the right direction with these efforts."

IEDC's Excellence in Economic Development Awards have 25 award categories to honor organizations and individuals for their efforts in creating positive change in urban, suburban, and rural communities. Awards are judged by a diverse panel of economic and community developers, following a nomination process held earlier this year. IEDC received over 500 submissions from 4 countries, placing CIEDA in the top 25 percent of applications.

Each year, the CIEDA staff compiles an Annual Report highlighting its initiatives, programs, and announcements from the previous year. The purpose of the report is to share the year's accomplishments with key stakeholders, the local community, elected officials, and other economic development professionals. The stories included in the report offer a synopsis of each project or initiative, addressing vital statistics such as job creation and retention, tax base enhancements, and quality of life improvements. The annual report plays an essential role in aiding CIEDA in promoting its efforts, and is produced in print and digital form to be easily accessed by various demographics through several mediums. The multiple access points to the report easily allow stakeholders to receive the organization's message and bolster its credibility and reputation. The annual report serves as a vital connective platform between CIEDA and the community as it looks to foster job growth, enhance both the city and county tax base, and promote Claremore as an ideal place to live and work. The report also provides a base understanding of CIEDA programs and potential partnership opportunities for area organizations looking to engage with local economic development initiatives.

"The winners of IEDC's Excellence in Economic Development awards represent the best of economic development and exemplify the leadership that our profession strives for every day," said 2021 IEDC Board Chair and Invest Buffalo Niagara, President, and CEO Tom Kucharski. "We're honored to recognize the more than 100 communities whose marketing submissions, projects, and partnerships have improved regional quality of life."

You can view a copy of the winning 2020 CIEDA Annual Report on growclaremore.com, or by visiting https://morestartshere.com/images/uploads/CIEDA_2020_AnnualReport_Spreads_1220_PR.pdf.

##
About the Claremore Industrial and Economic Development Authority

The Claremore Industrial and Economic Development Authority (CIEDA) is a public trust organization formed in 1948 to stimulate economic growth and development for the city of Claremore. CIEDA oversees the Claremore Industrial Park and the Claremore Regional Airport, as well as facilitates the recruitment, retention, and expansion of primary industry jobs, and expansion of the sales tax base through the recruitment of new destination retail businesses. CIEDA additionally works to ensure a regional workforce pipeline through initiatives such as Partners in Education and Learn and Earn Program.

About the International Economic Development Council
The International Economic Development Council (IEDC) is a non-profit, non-partisan membership organization serving economic developers. With more than 5,000 members, IEDC is the largest organization of its kind. Economic developers promote economic well-being and quality of life for their communities by creating, retaining, and expanding jobs that facilitate growth, enhance wealth and provide a stable tax base. From public to private, rural to urban, and local to international, IEDC's members engage in the full range of economic development experiences. Given the breadth of economic development work, our members are employed in various settings, including local, state, provincial, and federal governments, public-private partnerships, chambers of commerce, universities, and a variety of other institutions. When we succeed, our members create high-quality jobs, develop vibrant communities, and improve the quality of life in their regions. Learn more at iedconline.org.