Eco Wood Solutions celebrates new Tulsa-area location
October 7, 2019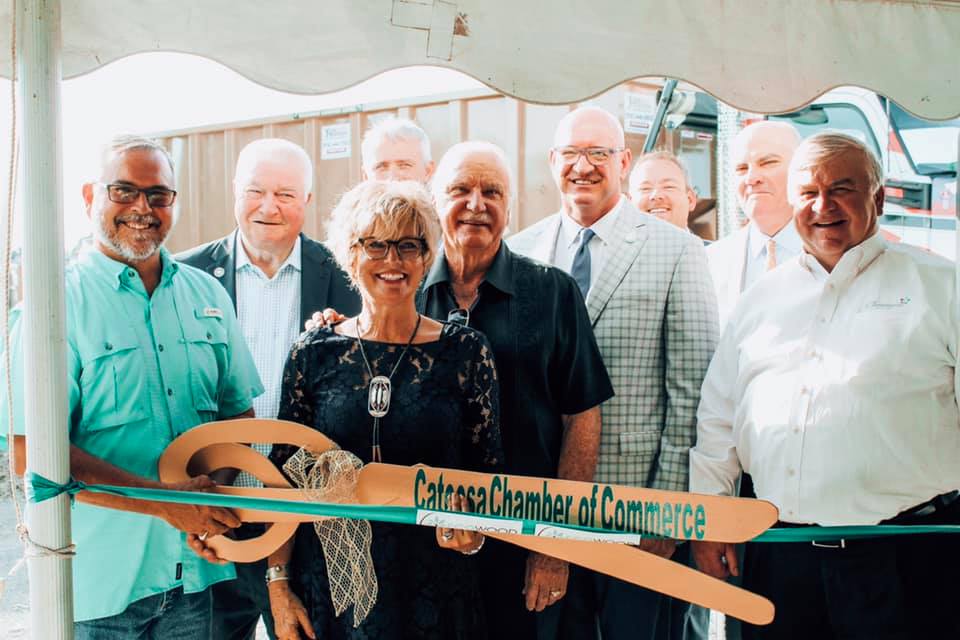 Today, companies across the United States spend approximately $200 billion on waste management services, making it a vital component in daily business operations. Access to waste management abatement plays a crucial role in a company's final decision when choosing to expand or relocate. Eco Wood Solutions fills this critical void for northeast Oklahoma, providing an essential service and strengthening the region's business sector.

Eco Wood Solutions, a leader in sustainability practices, recently expanded its Oklahoma City operations to the Tulsa-area. The company strives to divert waste, such as industrial wood pallets, from landfills and repurpose it into a quality, safe material. While still new to Rogers County, the company already has established numerous partnerships, providing northeast Oklahoma businesses with a sustainable wood recycling option.

"A primary goal of CIEDA is the diversification of our community's industrial sector and primary job creation," said John Feary, Executive Director of the Claremore Industrial and Economic Development Authority. "The announcement of Eco Wood Solutions expanding operations to Rogers County not only broadens our industrial operations, but provides a unique sustainability opportunity for northeast Oklahoma's manufacturing sector. It is a true honor to welcome this fantastic company to Rogers County, and I look forward to many years of continued partnership."

"Solar Turbines Broken Arrow is very grateful for the partnership with American Waste and ECO Wood Solutions," said Robert Reese, EHS Representative, Solar Turbines Inc. "The service provided by both companies compliments our company values, allowing our facility to get one step closer to our goal of zero landfill. ECO Wood Solutions provides a viable solution to wood waste reduction and environmental sustainability."

Eco Wood Solution is owned and operated by the Bergen Family and Bergen Enterprises. With deep Oklahoma roots, the Bergen's are passionate about generating a safe, clean environment. The company is an extension of the family's commitment to sustainability throughout Oklahoma. In addition to providing a prime wood waste abatement option for businesses, Eco Wood produces high-quality products, including IPEMA certified PlayZone woodchips, as well as landscaping, oil field use, biomass fuel and liquid solidification products.

"Wood is one of the largest volume waste products of tilt-up construction, an otherwise very efficient means of building," said Jim Driscoll, Project Manager, ARCO Construction Company, Inc. "Eco Wood Solutions gave ARCO the ability to dispose of this product in a sustainable way and help us meet the LEED v4 goals of our clients, Whirlpool and Pizzuti Development. It's great to know Eco Wood Solutions exists, giving so many others the ability to help keep Tulsa green."

In collaboration with CIEDA and the Catoosa Chamber of Commerce, Eco Wood Solutions is celebrating its new Tulsa-area location with a ribbon cutting ceremony and open house event. Oklahoma Secretary of Energy and Environment Kenneth Wagner will provide remarks on Eco Woods' strengthening the state's business recruitment and retention toolbox and its role in improving sustainability practices in Oklahoma. Additional guest speakers include Amanda Curtis, Waste and Recycling consultant, Phil Albert and owner, Susan Bergan.

"Rogers County is experiencing a time of unprecedented growth and development," said Commissioner Ron Burrows, Rogers County, District 3. "We know much of this is attributed to the continued development of the area's thriving manufacturing sector. I am excited to welcome Eco Wood Solutions as a new business partner. I am confident its presence will continue to bolster and grow our region's business operations."

"Sustainability is important to the growth of businesses all over our great state," said Phil Albert, member of The Board of Regents for The University of Oklahoma, and former Tulsa Regional Chamber Chairman. "We are very fortunate, to have an entrepreneur like Susan Bergen choose our community to invest locally, and further strengthen our region's business ecosystem."

The Eco Wood Solutions open house and ribbon-cutting event will be held on Monday, September 30, at 4:00 p.m. Formal remarks will begin at 4:30 p.m.

"As home to the Tulsa Port of Catoosa, and numerous other industrial partners, Eco Wood Solutions fills a vital sustainability need in our community," said Glenna Scott, President of the Catoosa Chamber of Commerce. "We at the Catoosa Chamber are grateful to partner with Eco Wood and share the message of responsible recycling and waste disposal practices."

More information about Eco Wood Solutions can be found on the company's website or by calling 918-551-7772.