Next Generation of Entrepreneurs Compete at RSU Youth Entrepreneurship Day
May 14, 2014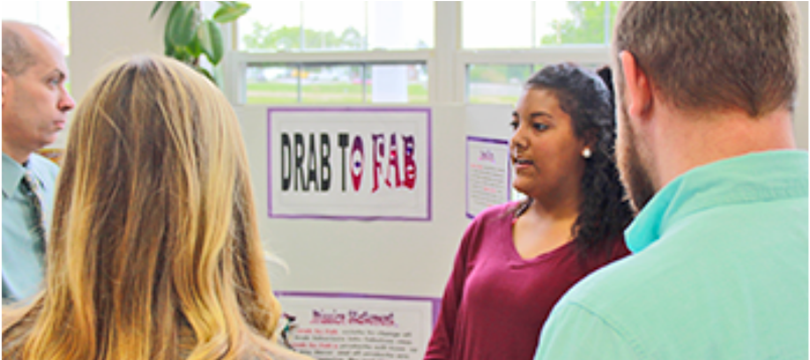 Morghan Taylor, a freshman from Vian High School, shows off her design business called Drab to Fab.

Aspiring young businessmen and women competed for cash prizes as part of Youth Entrepreneurship Day, organized by Cherokee Nation and the Rogers State University Innovation Center.

Students in fifth through 12th grades worked individually or in teams of two during Wednesday's competition. Each presentation was judged on several factors including marketing, finances and management. Staff from the RSU Innovation Center as well as RSU faculty members and a Cherokee Nation official served as judges.

The competition included $3,000 in prize money between two divisions, fifth through eighth grade and ninth through 12th grade. The Cherokee Nation Tribal Employment Rights Office sponsored the competition by donating the prize money that the students received.

Morghan Taylor, a freshman from Vian High School, showed off her design business called "Drab to Fab."

"I showed up to present my business to the judges, not just to win prize money," Taylor said. "The judges had some good tips to help me grow my business."

Jeri Koehler with the RSU Innovation Center believes events like Youth Entrepreneurship Day will pay dividends for generations to come. "We should be graduating job creators, not job getters," Koehler said. "This is an opportunity for youth from the area to explore business ideas and get immediate feedback on how to edit, develop and grow their business ideas."

The Cherokee Nation is playing an instrumental role in developing future small business leaders.

"These students have some great ideas that deserve a spot in the marketplace," Cherokee Nation Commerce Executive Director Anna Knight said. "We want to encourage students to take their ideas and run with them."

The $700 grand prize was awarded to Alex Bailey, a seventh-grader from Locust Grove Middle School for "Kids Classifieds."

Meredith Brown and Trevor Petors, sophomores from Bartlesville Mid-High School, took home first place in the ninth through 12th grade division for "Sweet 16 for a Cure." Hannah Hart, a seventh-grader from Vian Middle School, was awarded first place in the fifth through eighth grade division for "Double H Basketball." Both division winners received $400.

For more information, contact the RSU Innovation Center at 918-343-7805.