RSU Breaks Ground for New Student Housing
May 20, 2014
Story originally published on behalf of Rogers State University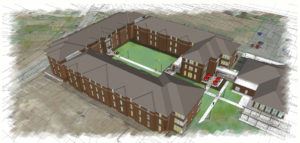 A new $11.5 million student housing complex at Rogers State University will provide beds for more than 300 new campus residents starting in fall 2015.

University officials broke ground Tuesday morning for the 312-bed facility, named University Village C, during a ceremonial groundbreaking on the Claremore campus. Construction has begun on the facility, which is scheduled to be completed next summer in time for the fall 2015 semester.

"Living on campus has been a highly desired feature among our incoming students, and the construction of University Village C will provide our students with even more options for campus living when it opens in fall 2015," said RSU President Dr. Larry Rice. "Meeting the need for campus housing has been a crucial priority for us, both because of the continued demand and the positive impact living on campus has for students. Studies routinely show that students who live on campus are better engaged and more likely to complete their studies."

University Village C would be the largest of the RSU student housing complexes, which were built in 2001 and 2011. When the new facility is completed, the RSU campus in Claremore will have more than 800 student beds in University Villages A, B and C that are on the northern edge of campus along Blue Starr Drive.

Campus housing has operated at capacity levels for the past five years or so, even after opening the 255-bed University Village B in 2011. The wait list for campus housing has swelled each summer to nearly 150 students wanting to live on campus, but the university has been unable to meet that demand.

University Village C will provide a more traditional campus housing experience for students with its clusters of either four or five double-occupancy suites around a community bath/shower area. The ADA-accessible bathrooms each include two showers, sinks and commodes. Each floor also includes three study areas and three lounges for resident use.University Village C will feature a fully functioning kitchen on the main level, along with laundry facilities. Exterior amenities include a fire pit and gas grills for cookouts.

University Village C is a design-build project consisting of the team of Key Construction, KSQ Architects, Martin Engineering, and Cyntergy AEC.

All campus residents will be served by the new $5 million student dining hall that opens this fall. The 17,300-square-foot dining hall has the capacity to serve up to 1,000 students with a basement/storm shelter during severe storms.

This fall, the university also will open remodeled apartments to accommodate up to 18 students participating in the recently announced Guard Officer Leadership Development (GOLD) program from the Oklahoma Army National Guard. Those apartments will be located in Downs Hall, adjacent to the Health Sciences Building. RSU also operates an 18-unit family housing facility in Ledbetter Hall, adjacent to Herrington Hall.

For more information about RSU campus housing, contact the office of Residential Life at
918-343-7865 or visit www.rsu.edu/res-life.