"With change comes opportunity" - Exciting momentum for Downtown Claremore
August 9, 2022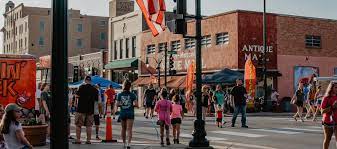 I am a native Rogers County resident and proud to call Claremore home. Over the years, I have had the honor and privilege to watch our community grow, develop and flourish. One area that has witnessed a true transformation is our downtown corridor. While many of us are aware of the changes currently taking place on Main Street, what you don't see is all the action taking place behind the scenes.
The recently branded Lilac District is a hub of activity, filled with shopping, dining and entertainment. It is a unique location where creativity, history, and the entrepreneurial spirit coexist, offering residents, visitors and guests a truly unique experience.
Downtown Claremore is a destination for residents, visitors and businesses alike. The area was known for its quality antique stores for many years, making it a collector's dream. Today, while there are still many fantastic antiques to be found (several of which are in my home and office), new stores, restaurants and entertainment venues have opened, serving as a catalyst for additional investment in the district. Many of our community's most popular establishments can be found or got their start on Claremore Main Street.
The downtown ecosystem is changing. The cultivation and development of Claremore's downtown district has been a strategic objective for CIEDA for the last several years. In conjunction with several partner organizations, such as Claremore Main Street, the Claremore Collective, the Chamber, the City and many others, we are witnessing the area's ongoing revitalization. Over the past year, through the dedication of these groups and many incredible volunteers, we have celebrated the installation of new signage, décor, entertainment features, and a new playground. These exciting improvements have set the foundation for the growth that we are seeing this year.
We all know the old saying, "with change comes opportunity." While there has been a continual momentum and focus behind development in the Lilac District, we are truly beginning to witness the fruits of those efforts. There have been many shifts taking place on Claremore Main Street. While we have had to say "goodbye" to some beloved locations recently, many exciting announcements, openings and celebrations lie ahead. I encourage you to stay engaged as new updates are coming soon!
I am incredibly grateful to every small business owner who has taken a leap of faith and invested in our community. Whether you are located in the Lilac District or across town, I want to connect with you and serve as a partner through each stage of the business cycle. Connect Claremore is a dedicated resource to aid small businesses in Rogers County. Our services are always free, and our team is available to meet with you for a one-on-one consultation. Contact us today at terri@growclaremore.com. Additionally, if you are someone you know is looking for a building space or tenant, we'd be happy to assist
This weekend, I encourage you to stop by downtown. Take a stroll through one of our amazing retail destinations, pop into your favorite coffee shop or restaurant and then head over to grab a drink, throw an axe, and truly discover all this fantastic district has to offer. Come see for yourself all the incredible development that is happening on Claremore Main Street!
I will see you around town!
Terri May Peters
Small Business Developer – Connect Claremore